Emperor Harmoni became the latest member of our fleet this year when she welcomed her first guests on board in September.
A truly beautiful vessel, we are so proud of her and look forward to her providing many, many memorable trips in the years to come.
However, it has not always been – if you will excuse the pun – plain sailing to get this far.
Emperor Divers managing director Alex Bryant looks back on the process, from conception to launch, and the highs and lows that have come along the way.
It was May 2017 and I had travelled to Indonesia to inspect Raja Laut – a majestic gaff-rigged, dutch schooner – while it was in dry dock in Kendari, south east Sulawesi with a view to Emperor Divers investing in her.
I was in Kendari with Andrew Laughlin from Segara Marine who asked if I wanted to join him to see a boat building site, four hours' drive away, where he had just commissioned the build of a new 48-metre vessel on behalf of a client.
Well, anyone who knows me, knows I love a project – and an adventure. Four hours of driving through jungle, across rivers and over hills in a relatively remote part of Indonesia to see a site where Pak Haji Wahab, perhaps the most famous Bugis phinisi builder, was starting a new project was something I was never going to refuse.
Pak Haji Wahab was the builder of great diving liveaboard vessels such as Raja Laut, WAOW and Dewi Nusantara to name a few, and his reputation for quality is second to none.
The journey began with an early start from our Kendari hotel, as we wanted to get to Sawa and back before dark. Having grown up in Saudi Arabia, Sabah and around Indonesia with a father who built power stations and electrical infrastructure in remote parts of these countries, I was relatively used to the journey in a Toyota Kijang through the jungles and dirt paths.
But this journey was harder than any I remembered as a youth, since there had recently been serious flooding and much of the dirt path had been washed away or churned up by the massive trucks working on the nickel mines nearby.
After hours of rocking and rolling in a car that looked like a 4×4 but was only two-wheel drive, I was starting to regret the decision to join in. Just as I was about to lose hope, however, we pulled out of the jungle onto a beautiful coastal stretch and I knew we were close.
Here, in the middle of nowhere, Park Haji Wahab had a team of skilled carpenters finishing a vessel with an empty spot of cleared land next to it right on the beach.  Just in front of this 'production slot' tonnes of Sulawesi ironwood were in the water being matured.
I stepped out on the largest of these planks of wood and Andrew told me I was standing on the keel of this fine new project. Little did I know at the time but this keel would be the beginnings, and spine, of Emperor Harmoni.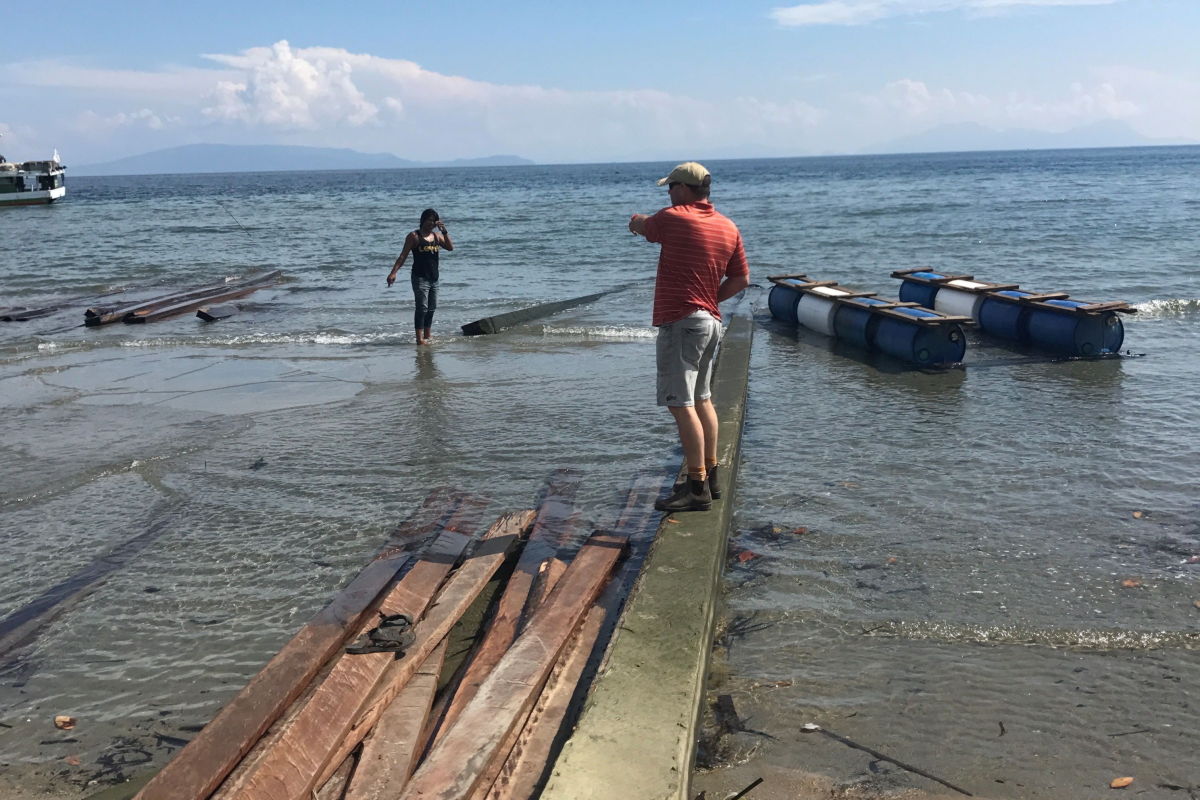 Fast forward to July 2018 and Emperor Divers had been running Emperor Raja Laut for just under a year. The project had been going well, and our clients had enjoyed many a wonderful experience onboard.
I started to look for a second boat in Indonesia and went back to Andrew to see if he had heard of any boats on the market. He told me he didn't know of any on the market, however, the hull of the keel I had been standing on 14 months earlier had unfortunately not proceeded as expected and the project was available.
We looked at the drawings and decided we liked the general concept but wanted to make a few tweaks such as no masts and to have twin engines as opposed to the Indonesian standard of a single screw. We worked with a naval architect and decided the project was a goer.
Next, we needed a name. After much debate and deliberation we decided that in a nation spread over 17,000 islands, with five official religions, around 700 unique languages and almost 300 million people all living in harmony – alongside a hybrid vessel of traditional hull in harmony with modern facilities – that Emperor Harmoni (Indonesian spelling) would be the perfect fit.
To add a touch of sustainability, alongside the extremely strong Ironwood, we would use recycled teak which we bought from a number of abandoned traditional teak houses in Sulawesi. The Sulawesi Ironwood makes up the hull, decks and frame for the superstructure, while the hull is completely clad in recycled teak. The entire vessel is built by the highly-skilled hands (with a little help from some very big chainsaws for the large bits getting cut) of Bugis carpenters- just as their ancestors have done for hundreds of years.
Once the hull and superstructure were complete in Sawa, the carpenters set to work launching her from the beach into the water. The process took three weeks, playing with tides and slowly using coconut tree trunks and chain-blocks. A nerve-wracking experience to say the least, but the carpenters knew what they were doing and we had to trust the process.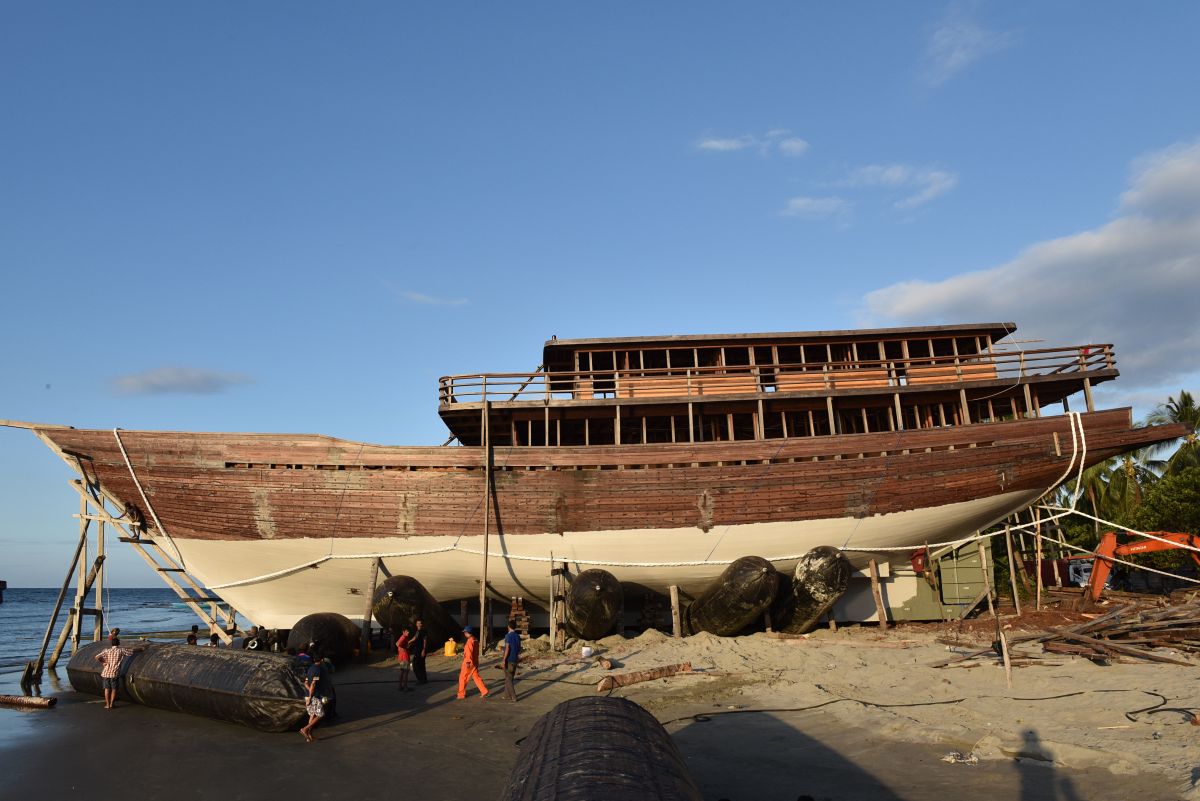 Finally, she was afloat on the September 19th, 2019. We readied her for the tow to Bali, where she arrived in Serangan on October 23rd, 2019.
Once she was in Bali the work was full-on with 30, mostly Javanese, finishing carpenters, electricians, and plumbers who were building interior walls, beds, bathrooms, plumbing and wiring. We were making great strides and felt she could be completed in the summer of 2020, long before her first scheduled trip in October 2020.
Then, as we all know too well… the world shut down. We had no idea how long the Covid 19 pandemic would last. So, in order to save jobs, cash reserves and keep the business going, we made the difficult decision to pause the project in March 2020.
Things looked like they were getting better with business in Maldives and the Egyptian Red Sea slowly but surely returning towards the end of 2020. However, the constant stop-start caused by changing rules and regulations that differed from country to country, made it almost impossible to predict when we would be safe to resume construction.
It was finally decided in September 2021, that I would move to Bali, Indonesia and help restart and oversee the build project.
From October 2021, we gradually resumed the build while making some changes to the design after 18 months of reflection.
We decided to move the dive deck to the stern, like on a typical diving vessel, and increased the number of guest cabins from 10 to 12, which gave us a comfortable working capacity of 24 guests and 24 crew.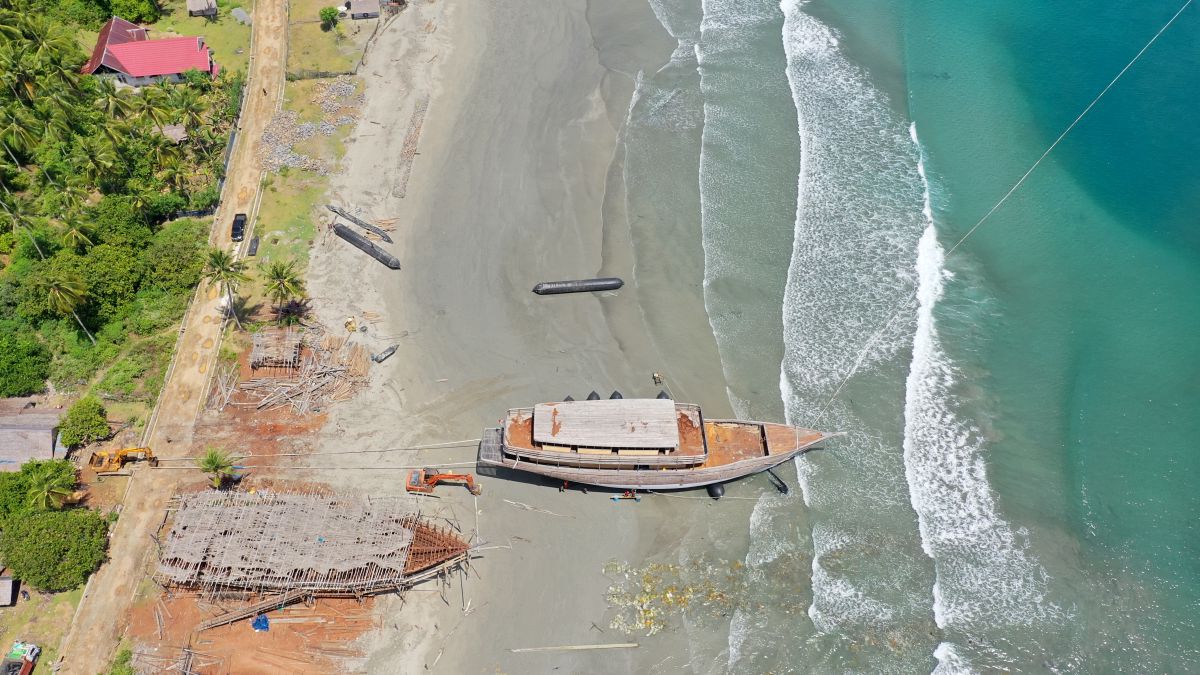 These changes afforded us the luxury of having a massive foredeck relaxation and outdoor shaded dining area, as well as opening up the roof to be one of the biggest sundecks I have ever seen. Small touches such as the use of Timur craving in the bathrooms and dining area added a sense of tradition and Indonesian flair.
After 10 months of redesign, hard work and much deliberation, Emperor Harmoni was ready for her sea trail on the August 1st, 2022. On the August 15th we took her to dry dock in Surabaya, East Java. We were rocking and ready to cruise.
But then we entered the graving dock in Surabaya…only to realise we were being followed in by the largest ferry I have ever seen. Immediately we knew the dry dock would not be possible in 10 days as planned because this monster of a vessel would not allow us to be reflected until she was also done with all works below the waterline too.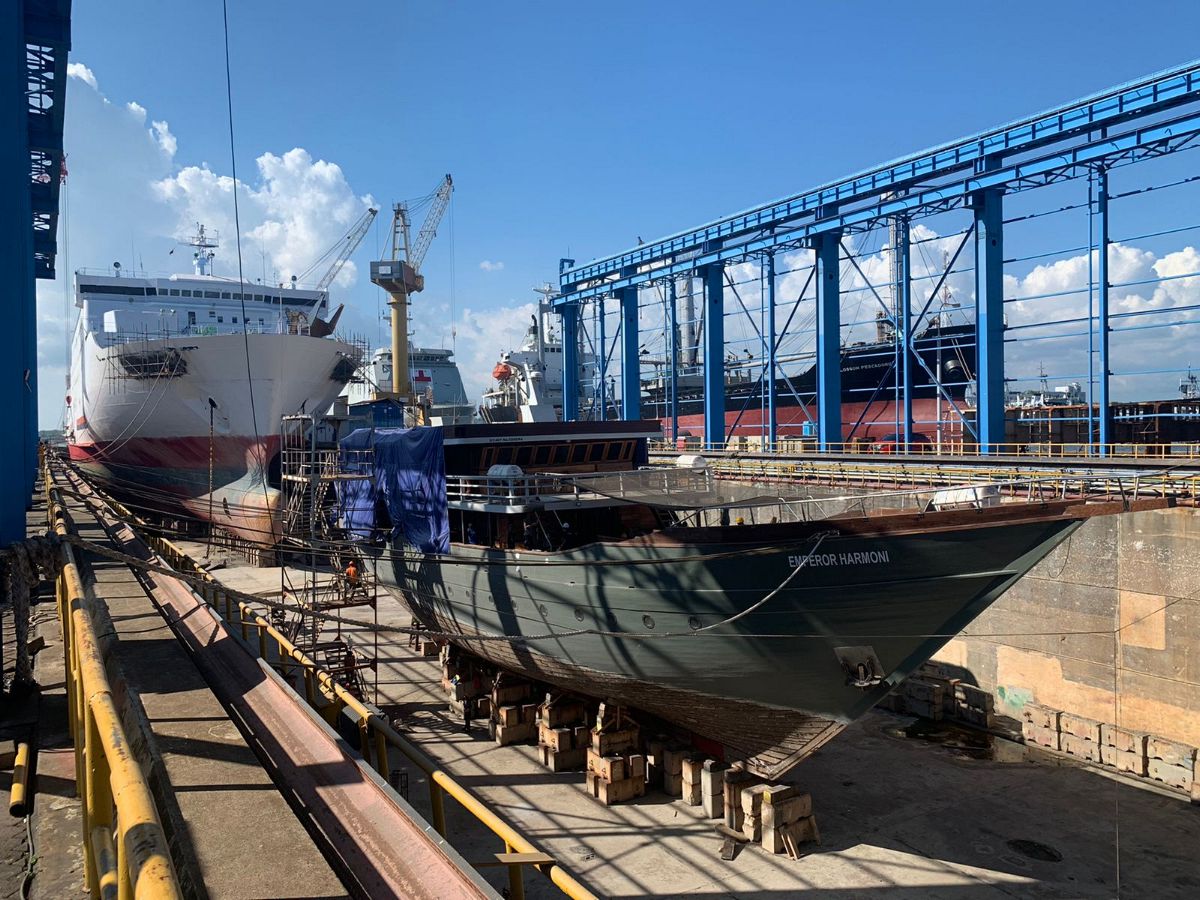 Eventually we were out of dry dock and sailed back to Bali. With just a week to finish before her first trip, it was all hands on deck and many late nights. But our incredible crew, led by the ever-present Captain Agustian and cruise director Silvia Perez, we got the job done.
Emperor Harmoni welcomed guests for her maiden voyage on September 23rd, 2022 an embarked on the nine-night, Bali to Komodo itinerary which took in the sights of Pulau Moyo, the whale sharks in Sumbawa, Sangean Volcano, Gili Bantu, the world-famous Komodo dragons and magnificent diving with manta rays in Komodo National Park.
A special mention must go to a number of people involved in the project. Captain Agustian, who has been present on Harmoni since the Saw launch in 2019, Jean-Thierry whose flair for detail has brought some magical touches to her interior, Rudy and the entire team at Segara Marine who worked tirelessly, especially towards the end, and Andrew Laughlin for inspiring us to begin with.
Not everything went to plan but we got there in the end – and we couldn't be prouder of the results.
Alex Bryant
December 2022